/reconstructions
jun 1 '17
Premiere: June 1, 2017 at Reconstructions Site #2, 4th and Master Streets, Philadelphia PA

Director: Tony Kamani
Hipster Girl/Person: Asaki Kuruma
Real Director: Mona Washington
The Audience: the audience

Setting: 4th and Master Streets, Philadelphia, PA Right now. This very second.
Part I
[…]
D: Start with a question. Go back to the script for a minute.
HG: Are you ready to change your life? Then change your address. Northern Liberties is right in Center City. We're convenient to the El and buses. Welcome to one of Philadelphia's finest, cutting edge neighborhoods.
D: When I said improvise I didn't mean for you to be that direct. Lets' try it again.
HG: Change your address to Northern Liberties, it's right in Center City!
D: It's not in Center City. It's 'adjacent' to Center City.
HG: Well, it's walking distance anyway.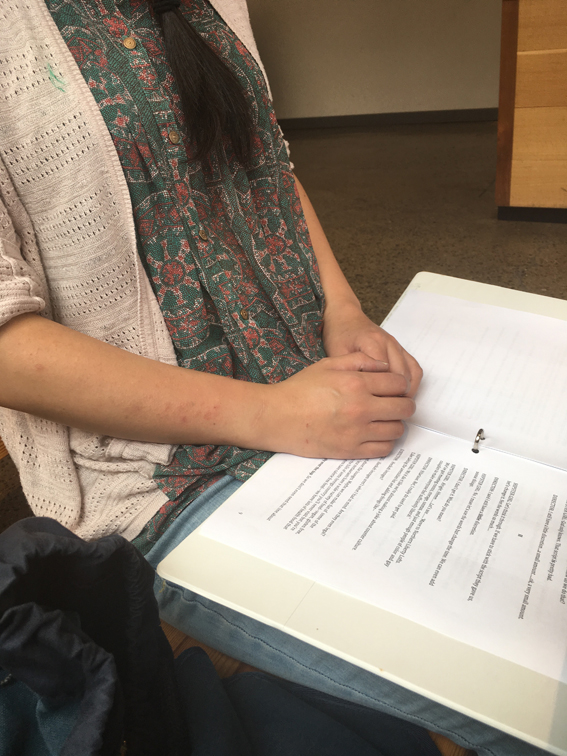 Part II
[…]
D: We should have used the construction clip.
RD: That thing you sent me last night? There's more coughing than dialogue.
D: It'd be a spoof.
RD: They're not paying us to produce a spoof. They want us to sell their brand new, very expensive loft apartments. If you insist on some kind of artsy crap by using this--structure that's not even a house, you need to make this a little sexy. You're the director. You're here on this lovely day. Have fun! You just have to finish shooting. The client wanted us to cast international and you did. You're directing this beautiful Asian woman--
HG: What do you mean 'beautiful Asian woman'?
RD: You're not beautiful?
HG: Assho--
D: Here we go----
RD: You're not Asian?
HG: 'Asian'. Can't you think of a particular country and not a continent?
D: She has a point…
[…]
RD: Ok. Who do you want to be?
HG: I want to be ME. I am ME. I want to play a specific person.
RD: What are you talking about?
HG: You're just as bad as a white man directing this.
RD: Where is this coming from…and which white man?
HG: All white men who say I'm Asian instead of Japanese…in real life… And in casting. You don't think a Japanese woman can be carefree in 2017…in Northern Liberties?
Beat. Beat
.
D: Actually. I don't think any woman can really ever be carefree anywhere.
HG: Then why are you pushing 'carefree' here?
D: Because it's a fantasy. Because it---this place is being gentrified. Something is being done to it. We want to make sure that the 'something' is good.
HG: Their good is probably going to be someone else's bad. You know what's going to happen. The taxes are will shoot up and the people who've been here will have to move. This area will be too expensive. What we're doing is not about feeling good or anything else. It's about the money.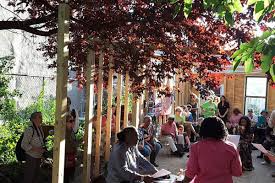 Part III
[…]
HG: Did you want the film of us to be a fantasy, or realistic, or a realistic fantasy?
D: All of it. It's what we do all the time anyway. Fact and fiction, and fact. If you don't want blurred lines, then don't live. Don't watch the news. Don't read the papers. Don't talk to people. Don't try too hard to make meaning. In the video, you can be carefree. You don't need to show people that the trash needs to get taken out, that you had a fight with your brother…that stuff. You don't want them to picture themselves doing mundane things, and if they do---then make the surroundings beautiful. You want them to believe, just for those moments, that they can be part of your vision, your suggestion for a better life. Borrowing our fantasy life frees them up to think of other things.
HG: I don't think most people really want fantasies.
D: They do. They're too scared to dream. Tell me, look over there. What do you think about that lot across the street? What do you see?
HG: It looks like an abandoned field.
D: That's all you see? Land is never really abandoned. Things are abandoned. Plans can be abandoned. Cars are abandoned. Even people, but not land. Land is used again and again. Before now, there might have been a house there. Or some sort of settlement. Or Native Americans. Or bare land, only flora and fauna, and before that tectonic plates.
HG: It looks abandoned to me.
D: It's not. It's waiting. I see an urban garden that's about to be planted. I see something that everyone can enjoy, whether someone can afford to live in a luxury townhouse, or not. It's nice to just walk by. Think about it for a second. You want to move to the big bad city. Subconsciously, you're scared…you're leaving convenience and safety. Then, you see some soil. The green is still part of their lives. They won't live in a concrete box---they'll know that an open field is in the same community. The image will feel comforting.
[…]
RD: You're not going to believe this. This house belongs to the art museum.
HG: What art museum?
RD:
The
art museum. The big one at the end of the parkway.
D: No!
HG: What are they doing with a house? A house here---
RD: Right. Unbelievable.
HG: They're going to put paintings in there? They'll have to pay a fortune for guards.
RD: The house is an art project.
D: And why not?
[…]
The End-ish
Mona R. Washington is a graduate of Georgetown University's School of Foreign Service and Harvard Law School. She is a proud member of Voices of Our Nations Arts (VONA). Her plays have been performed in New York, Philadelphia, Rome, and Paris. She's been awarded fellowships at The Djerassi Foundation, The Dora Maar House (Provence, France), The Ucross Foundation, and The Jack Kerouac House, amongst others. Queries regarding performance rights for plays may be directed to monasax2@gmail.com .